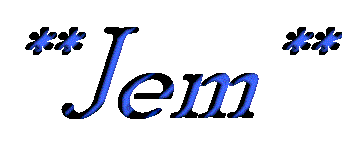 Jem was a "TRULY OUTRAGEOUS" Rock Star cartoon character of the 80's. She was the leader of a band called the Holograms who was changed from mild mannered Jerrica to the wild pink haired Jem with the aid of a holographic image. Jerrica was turned into Jem to help save the orphanage that Jerrica's father had left her. The Holograms also had a rival band called the Misfits, they were always trying to foul things up for Jem and the Holograms. The dolls were released by Hasbro to coincide with the cartoon series. The dolls have wonderful poseable bodies with jointed wrists, waists, and legs that can bend and be crossed!!! The dolls are no longer available in stores, but can readily be found on the secondary market. All of the dolls sport wild colored hair and make up, the are a wild bunch, and a lot of fun!!!
~~~
Information by Dana G.
~~~
For more information on Jem and the rest of the Jem line of dolls, the following sites may be helpful:
Jem Grrrlz! Pictures, fashions, price guides and ID guide, and more.
Hollywood Jem Jem's history, a character guide, toy guide and hatroom.