Lisa "Luna"
I am 33 years old, married for 11 years with no children. My husband and I own a constructions company in Tennessee. I have a degree in accounting and do most of the office work, however, I am often "in the field" with the guys, so I am really multi talented. Construction is a very HARD place for a woman, but at least I have my husband to help me. I am the only woman in our company and probably always will be. I am overwhelmed with the "male" things all day, so my dolls are VERY important to me. My dolls do all the girly things that my life style doesn't allow me to do. I love playing with my dolls, which is why I like the Deboxers so much. I have a few NRFB, but my favorite dolls are some of the cheapest that I have redone in some way. I have a display on my dresser that I change out regularly of my dolls. It is usually seasonal. Right now I have this yellow plaid doll and several other "dressy" dolls and I have a picnic set with the coke picnic from last year and Ana from the Gen Girls is ready for a swim.
I am only learning about dolls as I only discovered them about a year ago, and am VERY thankful to the deboxers and all their help in learning and understanding the hobby.
Please everyone, thank you, for sharing all the fun with me!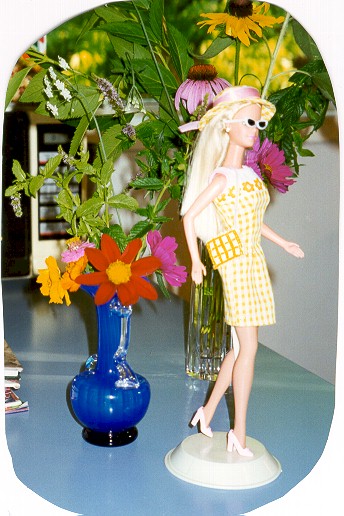 You will recognize the Fashion Avenue as one of the newest from Mattel. As it happens, in this hear, this is my favorite. Our Model today is a beautiful blond Pretty in Plaid with her hair down and sunglasses from a pearl beach little pack. I blacked out the lenses with a marker to make them look more realistic. Barbie's purse is on that I made! I tried to match the plaid in this summery dress and the picture looks NOTHING like the real things. In real life the beads are frosted so that You can barely see the difference between the yellow and the white. The edging and the strap are made with pink beads to match the accents in the outfit. Together these frosted yellow, white and pink beads look like an icy popsicle cooling our girl on a hot summery day!