GOODIES!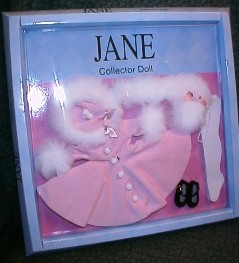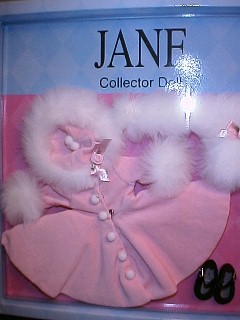 Club Members who attended the Expo West Tonner Tea were given this
wonderful Jane outfit called "Jane's Winter Coat". If I got my info correct
re: this outfit, it is to be done later in white and will be available to
all Club Members, but was done just for this Event in pink. Robert walked
the room, signing boxes along the way, which brought to mind a dilemma: how
can I take it out, now that it's SIGNED, to play with it?! Being the
Deboxer Queen, this question should never have crossed my mind *or* my
lips, but I was overcome by Jane wantlust and didn't know what I was
saying. I might have even made the remark that I would hang the outfit on
the wall, for which I received a rather odd look from Robert, LOL! You'd
think I'd be used to those looks by now. <G> We also received a Jane
button, and a Mary Engelbreit 'Ann Estelle' pin.
Miss Nancy told us there would be a Test, and she wasn't kidding! We played
as tables in the Tonner Trivia Bee, and the table who got the most correct
answers was to win a Kripplebush Kid. I'm not sure, but I think the
questions were rigged, as I'm fairly certain only Robert's mother or
workmates would ever know the answers to some of them! <G> After they had
toyed with us long enough, Robert announced that we would *ALL* win a
doll!! and so each of us were given an "Eliza Goes to Sauder Village". What
a darling she is, and tho fortune may not favor the foolish (I can NEVER
win those dang raffles!), this generosity from Robert Tonner made us all
feel like Winners. <happy smile>