The International Collectible Exposition at Long Beach, April 24, 1999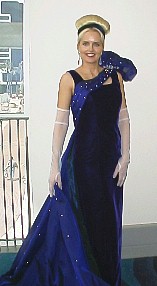 Embassy Waltz Barbie was on hand to welcome us
to Mattel's Club Members Hospitality Suite.
She posed with attendees for complimentary Polaroid
pictures and made delightful conversation throughout the room.
Her costumen was exquisitely done, and every
hair was in perfect place!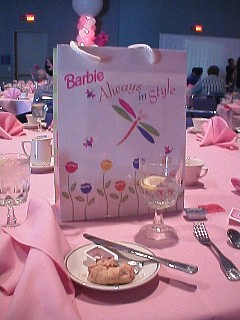 Gift bags were given to all Club Members at check-in.
These held: a beautiful 8x10 color photo of the
Embassy Waltz Barbie Doll with her designer
(who was there for signings),
a Hallmark Vintage Barbie Pressed
Tin Lunchbox Ornament (this is totally cute,
if you don't have one GO GET ONE!),
and the little red hatbox to the repro Commuter Set!!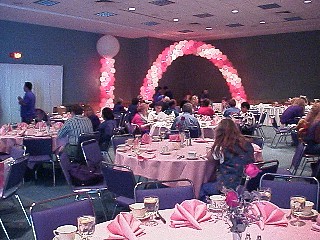 Mattel's Hospitality Suite. As you can see,
we were not eating on paper plates!
We dined on finger sandwiches and scones,
and had the most incredible uniformed waiters
keeping our water glasses full
and our dirty dishes gone.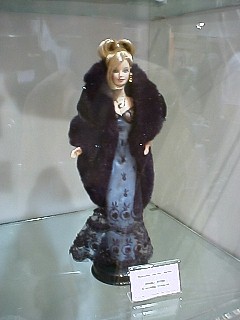 These pics were shot quickly in Mattel's booth (with permission).
This is the Nolan Miller II Barbie, a must-have for this Collector.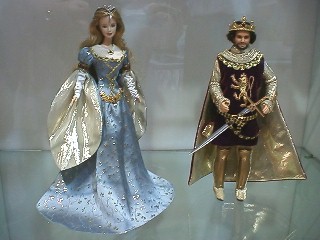 Barbie and Ken as Guinevere and Arthur.
Another must-have.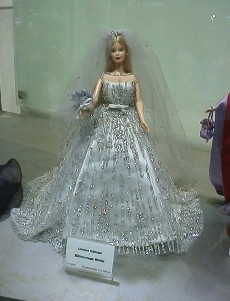 The Millenium Bride Barbie Doll. Beautiful but pricey.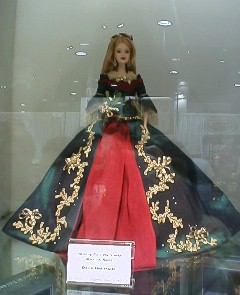 A new Xmas doll, perhaps a porcelain. I should have taken notes!