Darci is a 12.5" fashion doll made by Kenner from 1979 to roughly 1982. Larger than Barbie, she has a more womanly shape to her body and a smaller bust line. She also features larger hands and feet than most fashion dolls, which makes her easier to dress and pose.
The basic Darci doll was available in the following combinations: a titian doll in an aqua blue swimsuit and skirt, a blonde doll in a white swimsuit and skirt and a brunette doll in a pink swimsuit and skirt. Each doll also came with a matching flower around her neck, silver open toed mules, a portfolio with her name printed on the outside, several fake magazine covers and a two piece stand with the dolls name in script. The dolls also had what would become Darci's signature five bracelets, two on one wrist and three on another.
The concept of Darci was very similar to that of the very first Barbies. Here was a doll dressed in a bathing suit that came in a variety of hair colors. A child could buy the basic doll and then buy lots of additional fashions. She had fully poseable arms and legs, a twist waist that used a series of rubber bands to allow freer movement and poseable wrists and elbows. However, Darci had one more important feature that the first Barbie didn't, wonderfully thick, stylable hair that could be shaped in any number of different ways.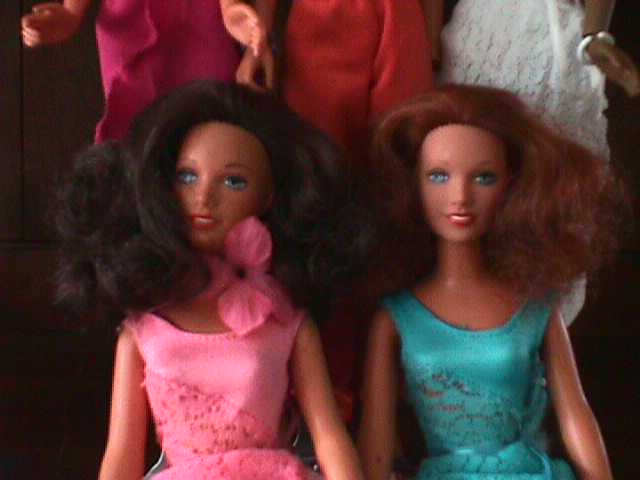 Darci, like Barbie, also had a series of friends. Dana was an African-American fashion doll dressed in the same white outfit that the blonde Darci was sold in. There was also Erica, a tanned doll with short curly brunette hair, dark makeup and a very exotic, almost Hispanic look to her. She was dressed in a two piece pants set of red and purple. As with Dana, Erica came with her own signature stand and portfolio. She was sold only at one Philadelphia department store for a very limited time around Christmas, 1979.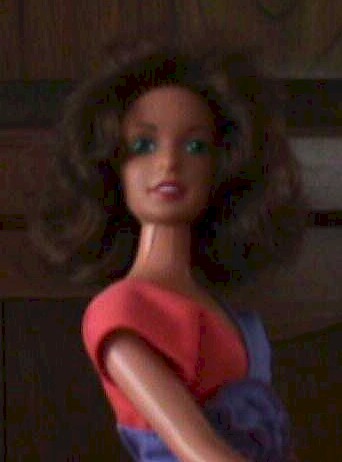 Darci had her own line of clothing and playsets. All outfits came with either the signature five bracelets set in a rainbow of colors or two gold thick, wide bracelets, depending on which type best coordinated with her outfits. The higher priced, boxed outfits came with extra shoes in a myriad of colors and styles, and lots of Darci sized accessories. The series of three fashions called "Perfect Pose" Fashions also came with additional backdrops for use with the Perfect Pose Studio. This playset featured a working camera and spotlight with colored lens filters. Other playsets also included a disco and a motorized dressing salon/van.
And for the child that had to have everything, Darci also had her own carrying case that looked like a child's suitcase. There was a compartment for shoes, bracelets and other accessories in the case, as well as five blue plastic hangers for her fashions and a separate space for the doll itself. Like people's clothes hangers, Darci's hangers also had a special slot at the bottom of them to hang her pants, which were part of a good number of fashions.
Towards the end of Darci's run, Kenner borrowed from Mattel's line of thinking, which was to come up with concept dolls so that the basic doll was no longer an option. They introduced Fashion Fragrance Darci, a tanned doll with hard, unmovable arms and wrists and platinum blonde hair. She was scented with a child-friendly fragrance simply called "Darci" and a small extra bottle of the cologne was found inside the box, either to re-scent the doll or for the child. They also offered a coordinating accessory pack with a camera, five white hangers identical to the ones from the carrying case, a deep pink portfolio and a few other little extras.
In the end, Darci could not compete with Barbie, mainly because of her size, not lack of quality. Her line was quickly discontinued and ended up in the clearance isle. NRFB or MIB examples, while seemingly plentiful now are quickly disappearing as many collectors that missed her the first time around are now seeking her out on the secondary market.

~~~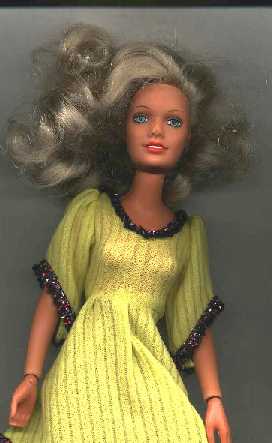 Information provided by: Bethany S.

~~~
For more information about Darci you might want to check out the following links:

No links... anyone help me here??