Augie:
I've only been on the deboxers list a few weeks, and I only debox half my dollys.....
I was born in Texas 45 years ago, but I have lived in MI since I was three. I've always loved dolls, especially Barbies but my folks didn't think it was fitting to have such a voluptuous doll, so they gave me a Chatty Cathy instead, which I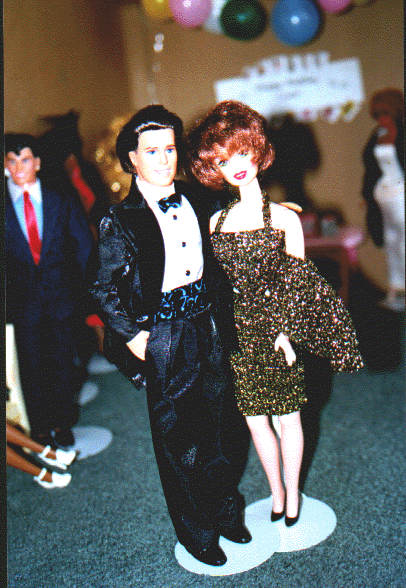 still have.

I've been married to my husband Kent for 10 years and we both started
collecting Coca-Cola memorabilia, which lead us to collecting CC toys, and then I started in Barbies while he went to American Muscle Cars. We still collect CC toys and belong to the Collectors Club, and I also belong to our local Fashion Doll Club. I do have a homepage, but it is on a little bit of everything...Coke & Barbie.

I started collecting Barbie in '92 and I have probably over 400 dolls which
include Candi, GI Joe, Ken dolls, Barbie -mostly Teresa's, some porcelain dolls, Madam Alexanders, & some antique china dolls. My dear Mother-in-law gave me one German doll that is over 100 years old, which gave me a thrill, but not as much as what she gave me for my birthday a few years later....A vintage Ken in Mexico outfit NRFB mint!! (something she picked up because she thought it was cute back in the 60's but really had no use for.) I am mostly a lurker, I like reading what other people's opinions are on dolls. By the time I get to answer some mail though, the subject has moved on so, I am just a lurker.....Does that make me like a peeping tom? OOOOHHHH NNNNOOOOOO! I do have opinions on a lot of things, but I do tend to change my mind, my original plan was to stick to 11 1/2" dolls, But I ordered
my first Gene the other day and laid away two outfits, the "Crimson Sun" & "HI-FI", the doll -- "Creme de Cassis." And I already have my eye on another few outfits....and maybe one more Gene......